Introduction to Evictions in Iowa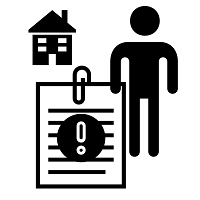 An eviction is a legal procedure used by landlords to force a tenant to leave a rental property. The Iowa Uniform Residential Landlord and Tenant Act, Iowa Code chapter 562A, and Iowa's Forcible Entry and Detainer Law, Iowa Code chapter 648, include protections for tenants who are facing eviction. Before a landlord can evict the tenant, they must give the tenant an eviction notice that explains why they are asking the tenant to leave, as well as (in most cases) a certain amount of time to correct the issue. If the tenant does not resolve the issue within the time stated in the eviction notice, the landlord will need to obtain a court order before evicting the tenant from the property. Proper notice is very important in eviction actions, and the court may dismiss an eviction case where the landlord did not provide proper notice to the tenant.
For more information on evictions in Iowa, visit the Iowa Legal Aid website.